Branding – Web Design – Social Media – Blog – Ads
Argelia Tovar Seguros is an innovative insurance agency committed to providing top-notch services and peace of mind to their clients
Insurance Agency Web Design
Through seamless integration of web design, branding, and social media strategies, we helped Argelia Tovar Seguros – ATS establish a strong digital presence and stand out in the competitive insurance landscape.
To captivate ATS's audience, we embarked on a journey to create a website that embodies their values of trust, reliability, and efficiency. Our team of talented web designers meticulously crafted an online platform that not only showcases ATS's comprehensive insurance offerings but also delivers a seamless and user-friendly experience. With a sleek and modern interface, intuitive navigation, and compelling content, the ATS website ensures that visitors can easily find the information they need and make informed decisions.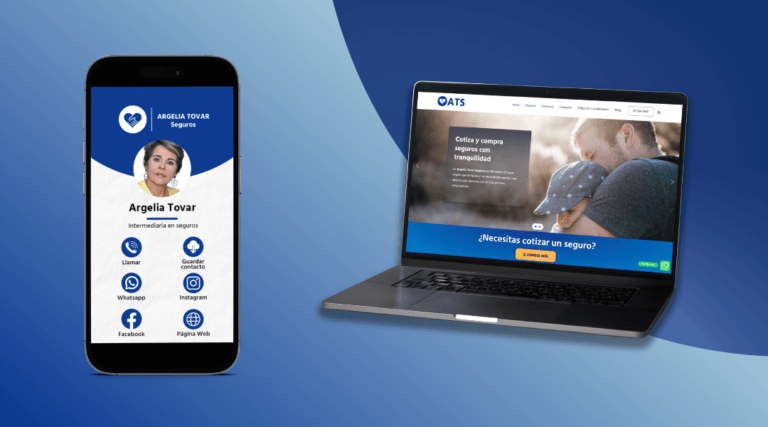 We collaborated closely with ATS to create a compelling brand identity that resonates with their target audience. Our experts delved into the essence of ATS, crafting a professional and trustworthy visual identity. Through a refined color palette, captivating logo, and consistent brand messaging, we established an unmistakable brand that sets ATS apart from competitors and leaves a lasting impression on potential customers.
Leveraging our social media expertise, we formulated a tailored strategy for ATS that enabled them to engage with their audience effectively. Through compelling content creation, strategic posting schedules, and community management, we amplified ATS's online presence across various social media platforms.
Reaching potential customers
Through our expertise in running targeted digital advertising campaigns, we collaborated with ATS to create impactful Google, Facebook, and Instagram Ads that maximize their online visibility, drive quality leads, and accelerate business growth.